Edelsun's creation was based on a fundamental challenge: the prohibition for restaurant owners to heat their terrace if they do not use renewable energy. As a terrace can represent 40% of the turnover, it is a major problem for this sector already subjected to strong constraints and immense competition.
Our mission: To promote a renewable, local, and inexpensive energy source (compared to other consumables); while offering restaurant owners a device to improve the attractiveness of the terrace with a powerful visible flame.Edelsun can be summarized in three key points:
A real and tangible added value for your establishment and your terraces.
A legal and profitable investment to develop and utilize your outdoor spaces.
A simple and intuitive device.
Below, you can discover the evolution of the costs of the various consumables :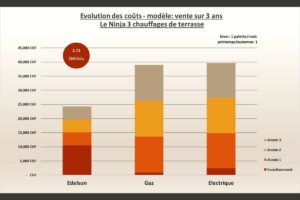 Do not hesitate to contact our team for any question.
Tel: +41 22 361 30 30
Email : info@edelsun.ch